Affiliate Profile
The Aguman Capampangan Northwest USA is an association composed of Kapampangans, one of the major ethnic groups in the Philippines. It was formed on June 29, 1996 by Ernest C. Turla with the aid of a couple of associates, Arturo Villanueva and Ben Susi, when they had a picnic at Oaks Park in Portland, Oregon. With just a few good members at first, they capitalized on the idea that if they built it others would come.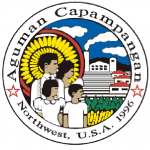 The first president was Marita G. Villanueva (1996-1998). She was succeeded by Danilo E. del Rosario (1998-2000). Then, Ernesto C. Turla, who had been serving as the group's adviser for four years, took over as president and held the position for 4 successive terms (2000-2008). After that, Mina Guinto Tahayeri became president (2008-2010). She was just recently elected for another term that will end in 2012.
The Aguman raises funds through yearly Christmas caroling and through its Luau events every mid-spring. It has promoted Philippine culture through the Santa Cruzan events it has had for sometime in the past. It has promoted Kapampangan culture especially their language through their partnership with the Akademyang Kapampangan International with which they jointly celebrate an annual La Naval Fiesta at Cascade Locks.
Despite its being new, the Aguman has already been able to accomplish what perhaps only a few organizations in the whole world have been able to. The series of medical missions it has sent to the Philippines since 1998 distinguishes it from other organizations in that it works for a humanitarian cause. In those missions, its delegates brought with them medical provisions procured from World Medical Relief Inc. Such missions, usually undertaken only by medical groups, captured the imagination of many.