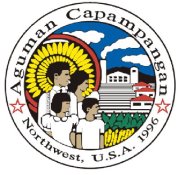 Welcome to Aguman Capampangan Website
Greetings!
It is with great pleasure and pride as President of the Aguman Capampangan Northwest USA Inc. to welcome everyone to our website!
The Aguman Capampangan Northwest USA Inc. is committed to serving the community as a non-profit Filipino–American organization based here in Portland. It began in 1996 as a social club composed of Pampangans in the area who felt a need for community and who wanted to nurture and strengthen the friendship they had with their cabalens. Continue reading...
Medical and Dental Mission
---
Despite its being new, the Aguman has already been able to accomplish what perhaps only a few organizations in the whole world have been able to. The series of medical missions it has sent to the Philippines since 1998 distinguishes it from other organizations in that it works for a humanitarian cause. In those missions, its delegates brought with them medical provisions procured from World Medical Relief Inc. Such missions, usually undertaken only by medical groups, captured the imagination of many.
History
---
It all started on that beautiful spring day when my good old friend, Andro Camiling, came to town and visited us at our home in Aloha. "Doy", as I call him, was a C.P.A. and financial director of U.S.C. and was then attending a convention at the Red Lion's. Anyway, to make the long story short, we happened to talk about the Circulo Pampangueno of Southern California of which he was the president. Upon learning that there was a sizable number of Capampangans in our area, he started encouraging me into forming one. I remember him saying,"Ay, dapat magporma cayu naman queti." Continue reading...
Affiliate Profile
---
The Aguman Capampangan Northwest USA is an association composed of Kapampangans, one of the major ethnic groups in the Philippines. It was formed on June 29, 1996 by Ernest C. Turla with the aid of a couple of associates, Arturo Villanueva and Ben Susi, when they had a picnic at Oaks Park in Portland, Oregon. With just a few good members at first, they capitalized on the idea that if they built it others would come.