History
Brief History of the Aguman
by Ernie C. Turla
Well, let us see….
It all started on that beautiful spring day when my good old friend, Andro Camiling, came to town and visited us at our home in Aloha. "Doy", as I call him, was a C.P.A. and financial director of U.S.C. and was then attending a convention at the Red Lion's. Anyway, to make the long story short, we happened to talk about the Circulo Pampangueno of Southern California of which he was the president. Upon learning that there was a sizable number of Capampangans in our area, he started encouraging me into forming one. I remember him saying,"Ay, dapat magporma cayu naman queti."
Shortly after that, I chanced to see some Kapampangans in a party we were both attending, and I brought up the matter to them. To my delight, they sounded enthusiastic right from the start. The next thing I did was to determine who among my cabalens had large families that could give us a large following and which would serve as a core group. I knew my wife's family was large enough to turn it into a club by itself but "variety being the spice of life", I wanted more Capampangan families involved. So I contacted the Susis who I knew also to be a large family. Their patriarch, Ben Susi, had been a barrio captain as well as a P.T.A. president and I knew he could help us organize it. Like us, he was very much in favor of it, and even added that "it was about time that all of us Capampangan should unite and form the club that so many of our "cabalens" have been for sometime dreaming of." Before we parted, I told him that I would be looking for a convenient time and place for all of us to meet and have a picnic or something. Another month passed by before I had the chance to see the same contacts, and this time it was in a small party we had at my house. There, we secluded ourselves from everybody as we mapped out our plan for an initial gathering of a "a few good Pampanguenos" to at least start the ball rolling.
Our plan was finally realized on June 29, l996 when we had a picnic at Oaks Park. It was a hot summer day and the park was teeming with people. We managed to get a nice spot – a gazebo which everybody was probably avoiding, thinking that it had already been reserved by others. There on the picnic table we placed our favorite dishes of "lutong Capampangan" which looked so sumptuous, I figured it made the mouths of the passers-by water. We spent the whole afternoon there eating, talking, taking a stroll or riding a carousel. We had picture-taking and I had everybody write his name, address and phone number on a sign-up sheet that also contained the basic membership requirements I had written and what our primary objectives were. Aware that my family and I would be going on a tour to Spain in two weeks time, someone suggested that we held another meeting the following weekend so as to be able to keep the momentum and to which we all agreed. Well, the picnic, as well as our informal get-together meeting was a success – everybody had a fine time, and so happy that I could almost hear everybody singing the song "The More We Get Together". Ben had brought his wife (Sol) and brother (Doncing) along. I had brought my wife (Angie) and one of my sisters-in-law (Claire) along, and a couple of guests (Rudy and Frida) who had just arrived from the Philippines a few months earlier. Art had brought his wife (Marita) and a few friends (Bert, his wife, Linda, and his daughter, Angie, his mother, Luring, and his friends Rod and Dolor).
That night on the same day, as initiator and chief founder of the group, I decided on who would be the officers of the newly-formed Capampangan club. I appointed Marita Villanueva as president. I also appointed Frida Alejandrino as secretary, Soledad Susi as treasurer, Angie Turla as auditor, Bert Ocampo as PRO and Rod Marcelo as sergeant-at-arms. I assigned myself, Art Villanueva and Ben Susi as advisers. (Note: These appointments were approved by "yeah" votes during the next meeting.)
The following weekend we had a meeting at the home of the Villanuevas in Vancouver. Unlike in the previous one where we were able to bring only a few friends, in this one, we were able to bring more as word about the formation of our club spread. The place was packed with people, all eager to be a part of the newly-formed club. The big factors that further shaped up the association was the presence of the Ramirez clan which was also a big one similar in size to the Bonifacios and Susis, and Jun Pingul whom I had previously met and got to know while in a shopping center not too long ago then and who was a "virtuoso" with the guitar. After some introductory remarks by Ben, all those that wanted to say a few words took turns talking on the microphone, and then we all enjoyed singing folk songs of pleasant glee to the accompaniment of our guitarist, Jun. During an intermission, I asked 'Paring Ben to continue with more appointments to complete the line-up. With his nominations approved by all those present, the officers added to the original ones were as follows:
Ist Vice Pres. – Lydia R. Lalic
2nd Vice Pres. – Ellen M. Ramirez Bus. Manager – (a certain Joe Vitug who vacated the position just a few weeks later)
PRO – Paul Ramirez (in addition to Bert)
Sgts.-at-arms – Charlie Paras and Doncing "Donnie" Susi, (in addition to Rod)
Adviser – Dan del Rosario (in addition to the 3 of us: me, Ben and Art)
Frida's suggestion for the name "Aguman Capampangan" won unanimously over the other option which was "Circulo Pampangueno".
We had another potluck/meeting in the same location after that. In the next meeting we held in our house, further appointments were made. Dan appointed Rudy Alejandrino as another adviser, and Jun and Paul as music director and asst. music director respectively. Bert's suggestion of adding "of the Northwest" to "Aguman Capampangan" in order to encompass a larger territory was approved. (Note: The group changed the name again later to Aguman Capampangan Northwest U.S.A., or just Aguman for short.) Most meetings after that were held at the Ramirez residence, Paul and Ellen being very accommodating. More appointments were made: Danny Ramirez and Conrad Manuel were added to the sergeant-at-arms position, and Mina Guinto Tahayeri (who represented the large Guinto family) was appointed business manager to replace an inactive officer. (Note: Just a few months later, Ernie Dabu, Candy Ramirez, Art Aguilar, Marilyn del Rosario, Mary Balino, Letty Pingul and Robert Palomo also became active members and then officers.) Over that period of time, Rudy drafted a constitution for the club; I wrote a song for it and which Jun sang during an event and recorded later; and Dan had its official seal specially made by his artist-brother, Rudy del Rosario. The inauguration of the club took place on (I forgot the exact date, sorry, but it was sometime in December 1996) at the Filipino-American Center. The induction of officers was led by Mr. Simeon Mamaril, then the president of the Philippine Historical Society, and who would later became an honorary officer of the Aguman. And if memory serves me right, our own "cabalen", Louis Lazatin, who was then the vice president of PACCO, was the guest speaker. There was lots of food, and Robert Palomo (himself, a member) and his band provided the music for the dance that followed and which lasted until the late hours.
And so it came to pass that a club was born! An association of Capampangans, by Capampangans and for Capampangans was officially established. Dan del Rosario would be elected president by the board of advisers in 1998, and I (Ernie) would be unanimously elected as president by all the officers and a few members in 2000. The Aguman would be propelled to glorious heights by a group of dedicated, aggressive and honest officers with topnotch capability, and its storied achievements would see print in Philippine news magazines, and no less than my pal, Andro Camiling, would be amazed and would exclaim later "How were you able to send a medical mission to the Philippines in so short a time? That's quite an accomplishment!" To which I would say, "We've got the spirit, Doy, that's why!"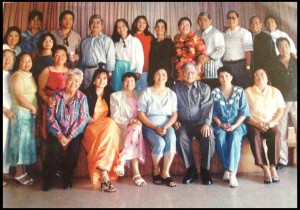 Picture taken at the inauguration of Aguman in 1996
Front row: Isabel Centeno-Carino, Nida Manuel, Ellen Mangune-Ramirez, Jackie R.I.P. Licaycay, Fermina Guinto-Tahayeri, Mary Lising-Balino, Angela Bonifacio-Turla, Ernesto C. Turla, Winifrida Alejandrino & Zeny R.I.P. Pacis. Top row: Loreta Sambo-Hosek, Marietta Bonifacio, Elizabeth Ramirez-Palomo, Robert R.I.P. Palomo, Danilo del Rosario, Marilyn del Rosario, Amelia Aguinaldo, Monette Mallari, Marita Gonzales-Villanueva, Arturo Villanueva, Louis Lazatin, Conrad Manuel, Gilbert Gaviola & Artemio Aguilar. Event: Aguman Capampangan inauguration, 1996. (Not in the picture but very likely with us there: Bienvenido R.I.P. Susi, Soledad Susi, Angie Susi, Nelson R.I.P. Tanedo, Doncing R.I.P Susi, Rudy Alejandrino, Paul Ramirez, Monico Pingul Jr., Lydia Lalic, Danny & Candy Ramirez, Bert Ocampo, Angie Ocampo, Rod Marcelo, Ernie Dabu, Gerry Pacis, Rudy del Rosario, & Mr. and Mrs. Mamaril.)